About Kristen Yoder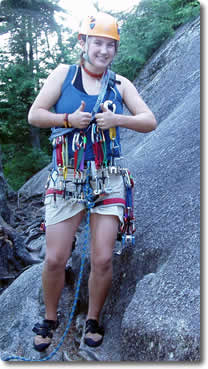 Kristen was born on November 6, 1984 to Ken and Kathy Yoder in Tucson, Arizona. She attended Agua Caliente Elementary School where she won awards for perfect attendance and straight A academics. Following in her brother's footsteps, she also won the Blake Seals Award at sixth grade graduation for the outstanding student at Agua Caliente School. She was very involved in 4-H, raising pygmy goats and market lambs and winning Junior Champion Showman at the Pima County Fair. In middle school, Kristen started her running career. By her freshmen year in high school, she was an outstanding cross-country runner, winning multiple varsity races and setting several course records. She medalled in the 5-A state championships that year and was voted MVP of the girls varsity cross-country team. She went on to compete at the state cross-country meet all 4 years of high school and was selected MVP again as a sophomore and Captain of the cross-country team both her junior and senior years. In addition to 4 varsity letters in cross-country, she received 4 varsity letters in track and was Captain of the track team her junior and senior years. She also played soccer, receiving 4 varsity letters and being selected Co-captain her senior year. In all she was awarded 12 varsity letters at Sabino High School and was twice nominated for Pima County Female Athlete of the Year.
She declined athletic scholarships and attended Northern Arizona University on an academic scholarship so she could devote more time to her love of outdoor adventure. She spent six months of her sophomore year participating in a study abroad in New Zealand where she learned mountaineering and glacier travel skills in the Southern Alps. The next two years while back at N.A.U., she spent much of her free time honing her rock and ice climbing skills all over northern Arizona, southern California, and Colorado. She was certified in Wilderness Medicine by the NOLS Wilderness Medicine Institute and was certified in Outdoor Leadership by Northern Arizona University, guiding multiple trips for the University backpacking in the Grand Canyon, rock climbing, and rafting. She was to start her senior year at N.A.U. in the fall of 2006 and was on track to graduate in May of 2007 with a major in Recreation Management. Over the last year, she worked part time with her brother Dustin at Peace Surplus, an outdoor equipment store in Flagstaff, selling climbing and camping equipment. She had recently begun testing outdoor equipment for Backpacker Magazine. Her latest review was featured in an article in the August 2006 Backpacker. The editor of Backpacker Magazine dedicated the October 2006 issue to her after her tragic accident.
View her slideshow: "Kristen and Friends" and "Dustin and Kristen" listed in the Gallery page.
Tribute to Kristen: Kristen's college roommate, also named Kristen, wrote a great tribute to her in the RedRock Racing blog. To go to that blog and read this article, Click Here .