About Dustin Yoder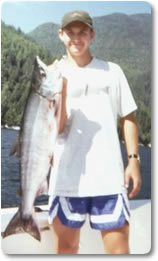 Dustin was born to Ken and Kathy Yoder on September 28th, 1982 in Tucson, Arizona. He attended Agua Caliente Elementary School where he won awards for perfect attendance and straight A academics. He was president of the sixth grade graduating class and was awarded the Blake Seals Award at graduation for outstanding student at Agua Caliente School. That year in 4-H he also won grand champion with his market lamb in the Arizona bred group at the Pima County Fair. He excelled at soccer and was a striker on his select club team that won the state AYSA championship in the under-12 age group. The next year his club soccer team again won the state championship, and Dustin was chosen to play soccer with a group of young American all-stars in Sweden and England, where his team won runner-up in the Gold Coast Classic in Torque, England. He attended Sabino High School where he lettered all four years on the varsity soccer team. He began his interest in rock climbing at age 12 and spent many of his weekends climbing with his friends in Meligrosa Canyon behind his home. He scaled Mt. Elbert (2nd tallest peak in 48 states) at age 13 and was an accomplished rock climber by age 16. He participated in an intensive mountaineering course on Denali at age 18 and went on his first expedition on Denali at 19. Over the next few years he climbed twice more on Denali, several routes on Mt. Rainier, several of the volcanoes in Mexico, Aconcogua in Argentina, and in the Himalayas.
In addition to rock and ice climbing, mountaineering, and backpacking, his other passion was fishing. He was an accomplished fly fisherman by age 12, never missing an opportunity to fish any body of water he could find. He also enjoyed scuba diving, water skiing, wake boarding, snow skiing, and mountain biking.
After high school Dustin attended Northern Arizona University, graduating in December 2005 with a major in business and a minor in Recreation Management. He was in his element in Flagstaff, spending most of his weekends hiking and climbing in the mountains of northern Arizona and Colorado. While at N.A.U. he obtained his certification in Wilderness Medicine through the NOLS Wilderness Medicine Institute and his certification as an Emergency Medical Technician (EMT). During his last few years at N.A.U., he worked part-time at Peace Surplus, an outdoor equipment store in Flagstaff, selling climbing, camping, and fishing equipment.
After graduating from college, he spent the next six months traveling, starting with a volunteer surgery project in Bolivia. From there he went mountain climbing in Argentina on Aconcogua, and then spent a month in the Himalayas climbing peaks and trekking over Cho La Pass up to Everest Base Camp. In May he headed to Peru with his dad, sister, and two friends, trekking to Machu Picchu and climbing multiple peaks before the tragic accident on Artesonraju.
View Dustin's slideshows: "Dustin and Friends" and "Dustin and Kristen" listed in the Gallery Page.